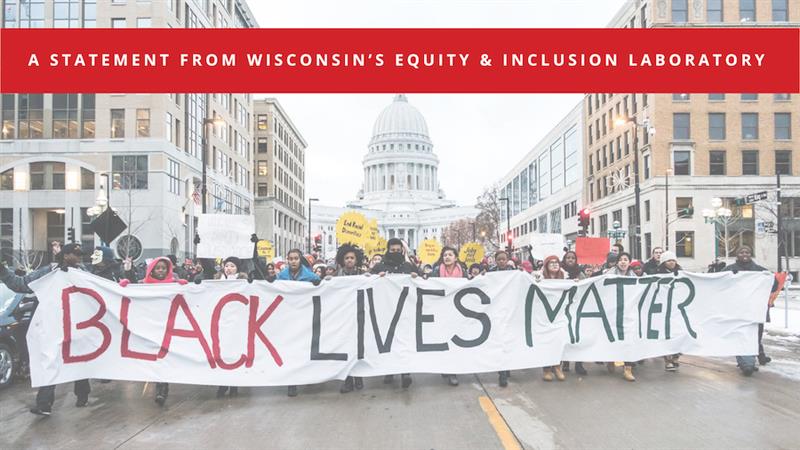 Like many of you, we have been gripped by the national response and awakening to racial injustices following the senseless deaths of George Floyd, Breonna Taylor, and Ahmaud Arbery. These are heartfelt signs of frustration and courageous statements of "enough is enough" and "we will not stand for this treatment anymore." 
We have been encouraged, but not yet convinced, by the number of individuals who have shown a new or renewed interest in racial justice and allyship. However, we, but also empathize and stand with those who have long understood that the deaths of Floyd, Taylor, and Arbery are but a tragic, graphic representation of systemic inequality in this country and the everyday injustices experienced by the Black community.  
For ten years, Wisconsin's Equity and Inclusion Laboratory has been engaging the most difficult and important equity and inclusion topics confronting the educational system and experiences in the global workforce. We have donedid so by modeling desirable hiring practices, with staff that spanned across ethic/racial, gender, sexual orientation, age, ability, and nationality to produce transformative work that could have not occurred absent the diversity at the table. 
Our goal at the LAB since its inception has been to translate research and the knowledge produced by the academy into resources tohat be utilized by those who stand to benefit from it the most. In many ways, we did not want to simply sit on the perch of the ivory towers of academe, but we desired to walk hand-in-hand with the communities for which our work could make a true difference in their lives. The moment that we are in is a clarion call to action for us and our colleagues to pour the compassion that drives our research into these beautiful Black communities.  
Our resolve and commitment to that mission is stronger than ever. Our staff has been thinking strategically about how we can amplify our efforts toand provide insight and support. In the coming weeks, you will see new programming, partnerships, and initiatives from us that will further amplify our extraordinary network of scholars and thought leaders on topics of equity and inclusion.   
If you are new to our Wei LAB community, welcome. Please reach out if we can be of assistance.  
To our community of supporters and advocates – we grieve with you, we support you, and we will continue to fight alongside you. BLACK. LIVES. MATTER.